I have been wanting to get into photography since a few years ago and, originally, my plan was to originally buy a camera this year. However, last June, I happened to see some discounts at my local electronics retailer, Fnac, and decided to buy one.
At first, I wasn't sure which camera to pick.
I was definitely biased towards Nikon. I knew more people that had one and I even used one, over 10 years ago during a photography course. However, after some thoughts, recommendations and a bit of google-fu: I went for a Canon instead.
I bought a Canon EOS 200D – also known as EOS Rebel SL2 in the Americas and EOS Kiss X9 in Japan. It's a pretty standard camera for beginners, nothing too fancy but it gets the job done.
After looking for some courses online, I was lucky to find a great YouTube channel where I learnt quite a huge deal about this craft. The instructor, Chris Bray, is a famed Australian photographer that has been featured in National Geographic, Discovery Channel and TIME magazine.
What I liked about his series is that each chapter is bit-sized and actually packed with some good tips. As an instructor, Chris is engaging and you can see how much he loves photography.
I also tried to do this free online course from the ALISON platform: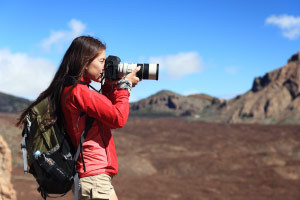 This course is quite complete and lengthy, covering the theory more extensively compared to Chris Bray's free course. Unfortunately, I never got to finish it.
It frankly bored me. The instructor speaks with such a dull and monotone voice that it is difficult to keep paying attention.
---
So, I had a camera and the basic notions of photography. I was just missing a place where to put my photos and a way to edit them.
After some research, I ended up choosing between two popular sites on the Internet:
Flickr: One of the most popular ones. Flickr was owned a few years ago by Yahoo!.
500px: Also quite a famous network for photographers.
I decided to go with 500px since Flickr has a limit of 1000 photos on its free tier. Furthermore, Flickr is also known for image hosting and I was looking for something more of a community instead.
I also opened a new Instagram account, focused a bit on DSLR and a lot on smartphone photography. I quickly learnt that some photos are might not look as good on a small screen, even when they look good on a bigger one.
I must say that I was a bit naive when I first started. Turns out, I am just a little fish in a big pond. It's a bit frustrating uploading a picture you really like and end up receiving a handful of likes.
I know, I know. I shouldn't care about statistics and just enjoy the ride; after all, I'm just doing this for fun for its own sake.
---
For the editing, I gave darktable a quick try but ended up settling with Adobe Lightroom Classic instead.
I'm still trying to come up with a good workflow but so far I managed to use colour labels to categorise my photos as: Public (for those I don't mind uploading to 500px, for example), Protected (for those that I'll share to specific groups, e.g. friends) or Private (for close-friends). I went full programmer.
The learning curve of Lightroom is somewhat steep and I have still so many things to master. For now, I try to tweak the photos to fix my inexperience. For instance, for most of the photos I run the auto tone adjustments. I try not to mess with colours too much, though; just enough to give the picture the same vibrancy that the original scene had.
I'm also very fond of the pre-existing filters – specially Flat, which "flattens" the shadows of the image, making them a more consistent tone of dark grey.
---
This year, I'd like to improve my skills, both on- and off- camera. I cannot overly depend on software to fix everything.
Anyway, these are just a few of my favourite pictures so far. They are from a recent trip I made. The first two were taken in Switzerland – Geneva and Lausanne, respectively. The last one was in Annecy, a French town pretty close to Geneva.
Let's see what cool photos will I take this year!